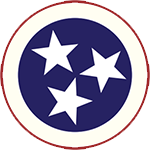 Director - Art Miller
Anderson County Dental Clinic
728 Emory Valley Road, Oak Ridge, TN 37830
To schedule an appointment call (865) 264-6356.
How Does the Extraction Clinic Operate?
For the past 36 years the clinic has utilized the services of volunteer dentists, dental assistants, dental hygienists and other community volunteers to serve low-income Anderson County residents. As more volunteer staff are recruited the number of clinics are now usually held on a monthly basis.  Patient follow-up care is provided by the Anderson County Dental Clinic located at the Health Department, 710 North Main St. Clinton (865) 425-8803.
Funding:  The Emory Valley Dental Clinic receives funding through grants, Anderson County Government, program fees, and private donations. Anderson County Government provides funding and the clinic space that has allowed the program to expand to four patient chairs. Program fees are important to the operation of the clinic even though they provide less than 15% of the annual budget. Private funds, supplies and equipment are appreciated and a very important part of maintaining the quality of the program.
How do you qualify for the program?
You must document that you are a resident of Anderson County
Do not have dental insurance
2 age categories are served:  19 to 64, and 65 and above
Keep scheduled appointments (failure to keep appointments may disqualify your from program)
Pay established program fees the day of service ( minimum $25 per tooth) Comply with dental care instructions  Cash and Credit cards accepted.
Anderson County Dental Clinic-Clinton
710 North Main St. Suite C
Clinton, TN 37716
(865) 425-8803
The dental clinic at the Anderson County Health Department is staffed by dentists and dental assistants. Patients are seen by appointment and pay according to sliding fees and reduced fees. Cash and credit cards are accepted. Clinic staff will see children and adults, and the clinic accepts TennCare and Cover Kids patients. No private insurances are accepted.
Services include exams, extractions, X-rays, fillings, and cleanings. Other services may be provided.
The clinic also provides dental exams, cleaning and X-rays for elementary schools in the Clinton City, Oak Ridge City and Anderson County school systems including HeadStart. Restorative work is referred to the child's private dentist or provided by the clinic.
Hours are Monday through Friday 8 a.m. to 3:30 p.m.